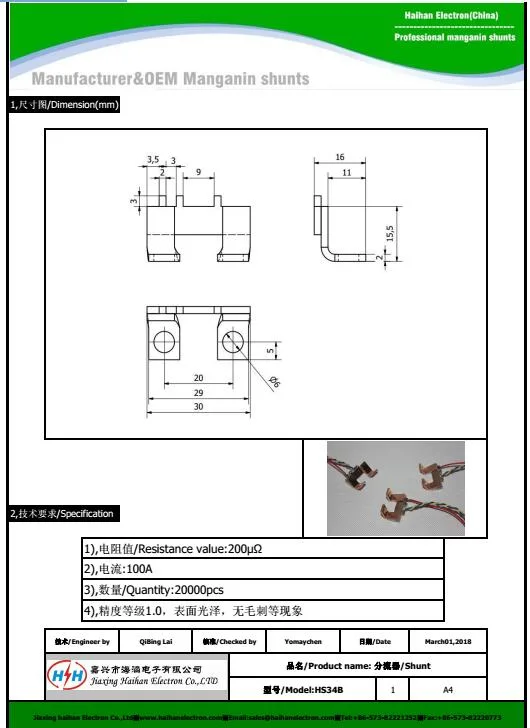 1, Application:
1), Multi-funcational energy meter
2), Prepayment energy meter
3), Reactive energy meter
4), Watt-hour meter
5), Multi-rate watt-hour meters
6), Maximum demand energy meter.
7), Standard electric energy meter
8), Meter for industry and home use.
2. Electrical specification:
1) Material: F2 or 6J13 Manganin and pure copper.
2) Welding mode: Electro-beam welding.
3) Resistance value tolerance: 500-1600micro ohms ± 5%
4) Shunt type: The shunt should be mountable type with holes for screw fixing
5) Termination: Integrated lead wires are available.
6) Temperature: Independent from temperature variation with low TCR value.
7)Characteristics TC < 50PPM/K
8) Power loss: < 50 milli watt
9) Aging: 10 hours under 120 deg.
10) Customized designs are available against customers' drawings/samples.
11), Top quality with low price
Welcome to visiting our website, Should any inquiry and question, please don't hesistate to contact with us email
Thank you for your attention again!