ETROSS 4G VOLTE Fixed Wireless Terminal FWT-8848 with 2 RJ11 ports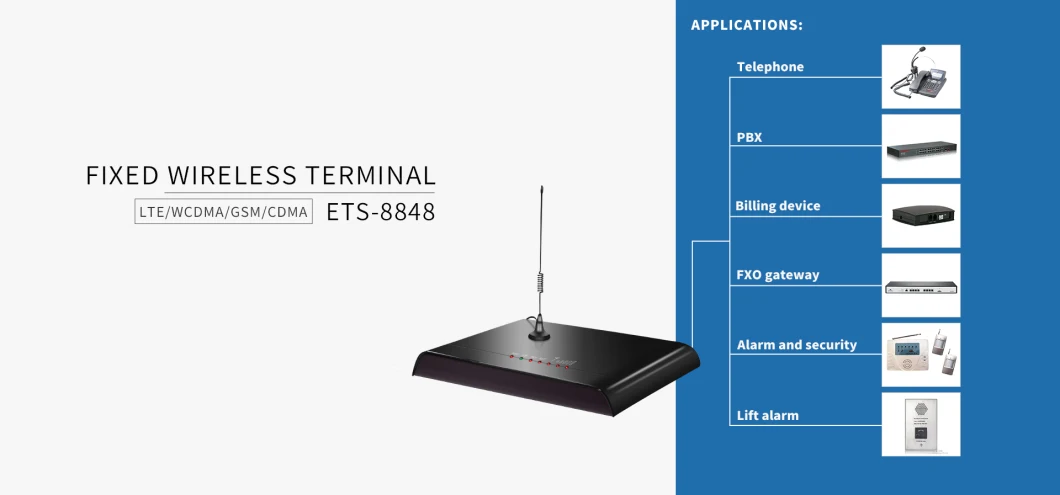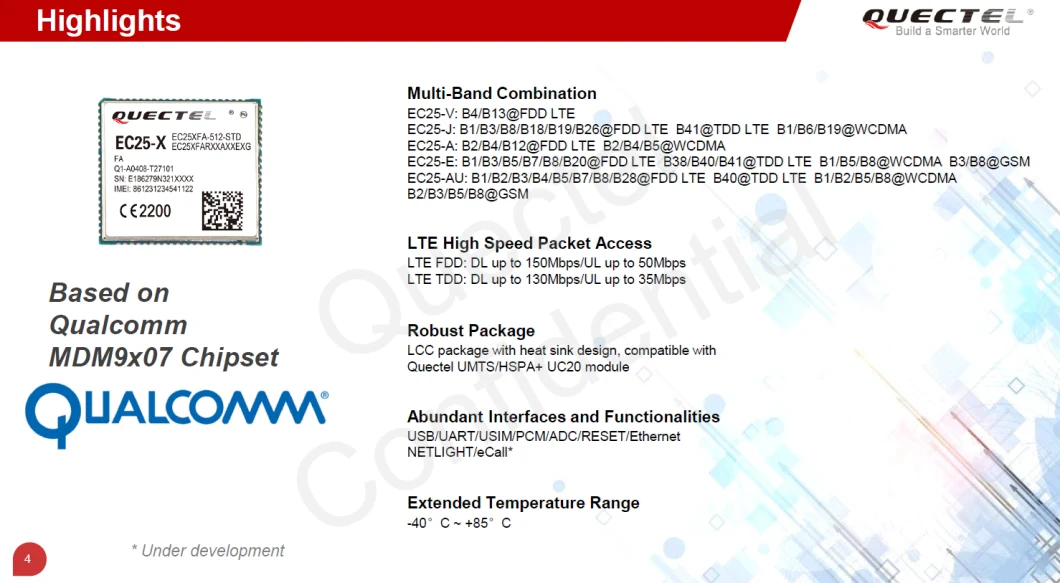 Frequencies:
2G GSM:850/900/1800/1900 MHz;
3G WCDMA:850/900/1900/2100 MHz ;
4G B1/B2/B3/B4/B5/B7/B8/B12/B13/B18/B19/B20/B26/B28/B66/B71 optional .

The main applications :
Connecting the RJ-11 FXS line to connect Ordinary telephone set for voice call,
Connecting the PBX for call extentions,
Connecting the billing systems for public phone use,
Connecting the VoIP gateway to realize VoIP call termination,
Connecting the alarm system for security purpose, etc. It is not a VOIP gateway
1. General Description:
Etross-8848 4G is a 4G GSM to Analog Converter, the device can produce a FXS line to allow a regular phone to be connected and used just like a local landline(PSTN) except your calls will go out the GSM network. This device can both receive and make calls.

2. Features and Functions:
1) Simple to install and easy to maintain
2) Steady industrial module and reliable design ensures good performance. EC-25, EC-21 module
3) Provides optimized circuit directly connecting the exchange device for Extensions
4) Compatible to most telephones, PBX and VoIP gateways (for call Termination)
5) Connect to Alarm systems to realize wireless alarm(for security use)
6) Strong signals with high gain antenna
7) Support SIM card (1.8V,3V)
8) Support DTMF 2'nd dialing out
9) Hide subscriber caller id (been sent out)
10) Provides reversal polarity signal for metering
11) Suitable for wide voltage range and low power consumption
12) Suitable for all kinds of weather and environment
13) Locking PIN / network (optional)
14) Support IMEI change(optional)
15) Back up li-ion battery(optional)
3. Specifications:
1) Air interface standard: GSM850/1900Mhz,900/1,800Mhz phase 2+ full band
2) Frequency ranges:
A) GSM 850 GSM 1900:
I) Transmission: 869.2 ~ 893.8MHz I) Transmission: 1, 930 ~ 1, 990MHz
Ii) Reception: 824.2 ~ 848.2MHz Ii) Reception: 1, 850 ~ 1, 910MHz
B) GSM 900: GSM 1800:
I) Transmission: 890 ~ 915MHz I) Transmission: 1, 710 ~ 1, 785MHz
Ii) Reception: 935 ~ 960MHz Ii) Reception: 1, 805 ~ 1, 880MHz
3) Channel space: 200kHz
4) User line, bell signal: In line with GB/T15279
5) Max power: 0.25W / 0.5W
6) Consumption:
A) Immobility: Less than 25mAh
B) Transmission: Less than 400mAh
7) Sensitivity: -105dB
8) Dial tone frequency: 450MHz (standard)
9) Surrounding temperature: -10°C ~ +40°C
10) Relative humidity: 45% ~ 90% (without frost)
11) Atmosphere pressure: 86 ~ 106KPa
12) Environment noise: <60dB
13) Antenna amplifying: 3.5dB (omni directional), 12dB (certain direction /
Chosen direction)
14) AC power: DC 10V - 20V
15) Input: AC100 - 230V, 50 / 60Hz
16) Output: 12V 1A
17) Switching type / transformer type AC adapter (optional)
18) Connector of power: US or European type
19) Dimensions (L x W x H) (average): 210 x 135 x 30mm
20) Weight: Full set with AC adapter, antenna and box: 800g
21) Colors: White/blue/black (optional)
22) Connection mode: RJ-11 phone sockets
23) Antenna connection: SMA antenna connection

4. Product view: