Current transformer mainly used in all kinds of electricity meter such as energy meter, water meter or electricity meter. We have current transformers both with and without DC immune. We can offer through-hole type, PCB type, Busbar type and flying wir type in mounting. Product with high accruacy up to 0.5, small phase error etc. We can also design and manufacture all kinds of current transformer according strictly to customer's special requirements.
Description:
1), All enclosed design, good performance of mechanical and insulation.
2), Pin design, easy to installate in PCB.
3), This series of CTs have small size that can be used as separate.
4), Linear output with high accuracy current.
5), Smalll size, light weight, standard hole easy to installation, Normal specifications and parameters as follow.
Single Turn Primary Mini Current Transformer(specifications)
Exterior Material
PBT Resin UL flame retardant rating 94-V0
Interior Insulation
Epoxy Encapsulated
Isolation Voltage
2500 Vrms for 1 minute
Dielectric Resistance
1000 M Ohms @ 500 Vdc
Surge Withstand
5000V(1.2/50μs standard shock wave)optional
Rated Load Resistance
100K Ohms
Operating Temperature
-25 to +55ºC,-40 to +85ºCoptional
Frequency
50 to 400 Hz
Accuracy Class
defined in IEC 60044-1 Part 1 Voltage Transformers Class 0.1 0.2
Certification
RoHS Compliant CE Approved
Single Turn Primary Mini Current Transformer(features)
Low cost
More than 50 standard sizes
Non-symmetrical mounting pattern
Toroidal Silicon steel and Nickel Alloy available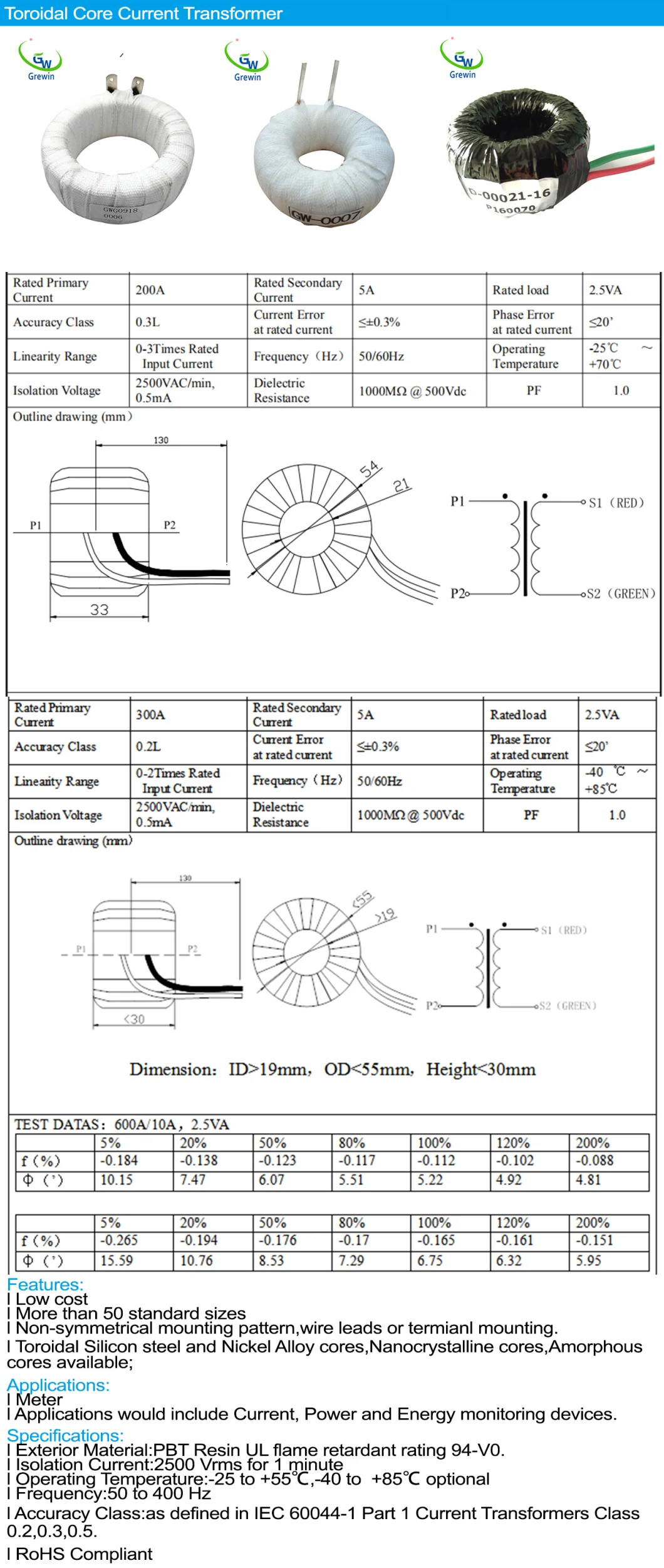 FEATURES:
Current transformers for electronic watthour meters with DC-tolerance are designed for applications where AC current signals or
half wave rectified DC current signals must be
transformed accurately into a lower current signal
appropriate for micro-processor based circuits.
A new TA model can be designed and manufactured to meet the specific
design challenges of the client's specific application. The following models
are only a small sampling of the many different products which have been
and are currently being manufactured.
Application:
Electronic watthour meters according to IEC 62053 -21, -23 must
have a tolerance to DC current
SPECIFICATIONS:
Case Material: PBT Resin UL flame retardant rating 94-V0
Construction: Epoxy Encapsulated housing
Isolation Voltage: 2500 Vrms for 1 minute
Insulation Resistance: 1000 M Ohms @ 500 Vdc
Surge Withstand: 5000V(1.2/50μsstandard shock wave)
Operating Temperature:-25 to +55ºC,-40 to +85ºC
Optional Frequency: 50 to 400 Hz
RoHS compliant
CE compliant
Accuracy Class: Compliant IEC 60044-1, Class 0.1, 0.2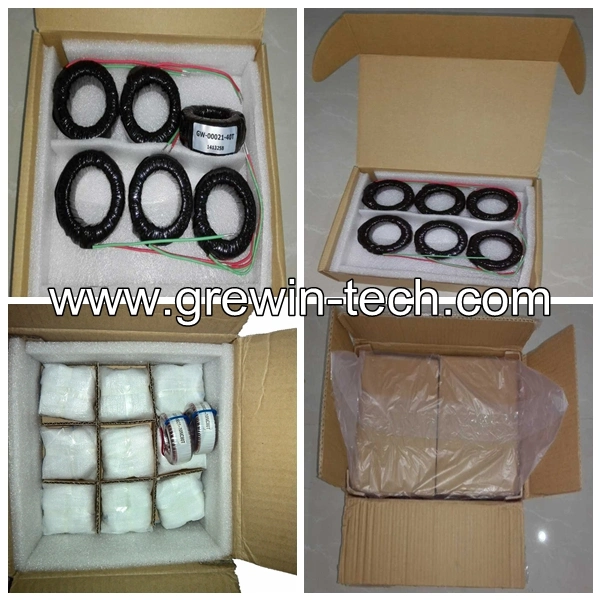 (package)
Victor Dong
Tianjin Grewin Technology Co.,Ltd.